Information
Learn to Figure Skate
Once skaters have completed our Learn To Skate Classes, they can progress to our Aussie Skate Intermediate and Freeskate classes. These introduce more advanced figure skating specific skills, including higher level jumps, spins, sprials and edges. Skaters can look towards doing figure skating competitions, completing their ISA (Ice Skating Australia) preliminary test, and joining our in-house figure skating club, the Sydney Figure Skating Club (SFSC).
Private Lessons
See our Coaches Profiles
Cost
Learn to Skate Class - Price for Term 1, 2021
9 weeks (30th January - 1st April)
$246
Includes:
1 x Learn to Skate Class (includes 30min lesson and 30min practice) at designated time each week.
Unlimited public sessions during the term (30th January - 1st April).
Free skate hire for all of the above sessions.
An additional class can be purchased at the discounted rate of $123 per class per term (eg. if doing Basic 2 and Synchro class each week, or doing Novice 1 on Saturdays and Mondays). Note that make-up classes are not available for additional classes.
How to Book
Registrations for Term 1, 2021 open on 7th December.
Make sure you register now to secure your spot.
This can be done in person or over the phone (9789 4044). Payment is required at the time of registering. Make sure you have a printed copy of your active kids voucher with you at time of purchase. The rink has adopted a cashless environment, so all payments including in the canteen will be with card only.
Our registration form for new skaters can be found here.
For returning skaters please click here to download registration form.
Email your form to admin@canterburyolympicicerink and call 9789 4044 to make payment, or bring the form in and you can pay in person.
If you have any questions please call us on 9789 4044 or email admin@canterburyolympicicerink.org.au
Term 1 Class Timetable
Please check that space is available when booking as some classes are full or close to being full.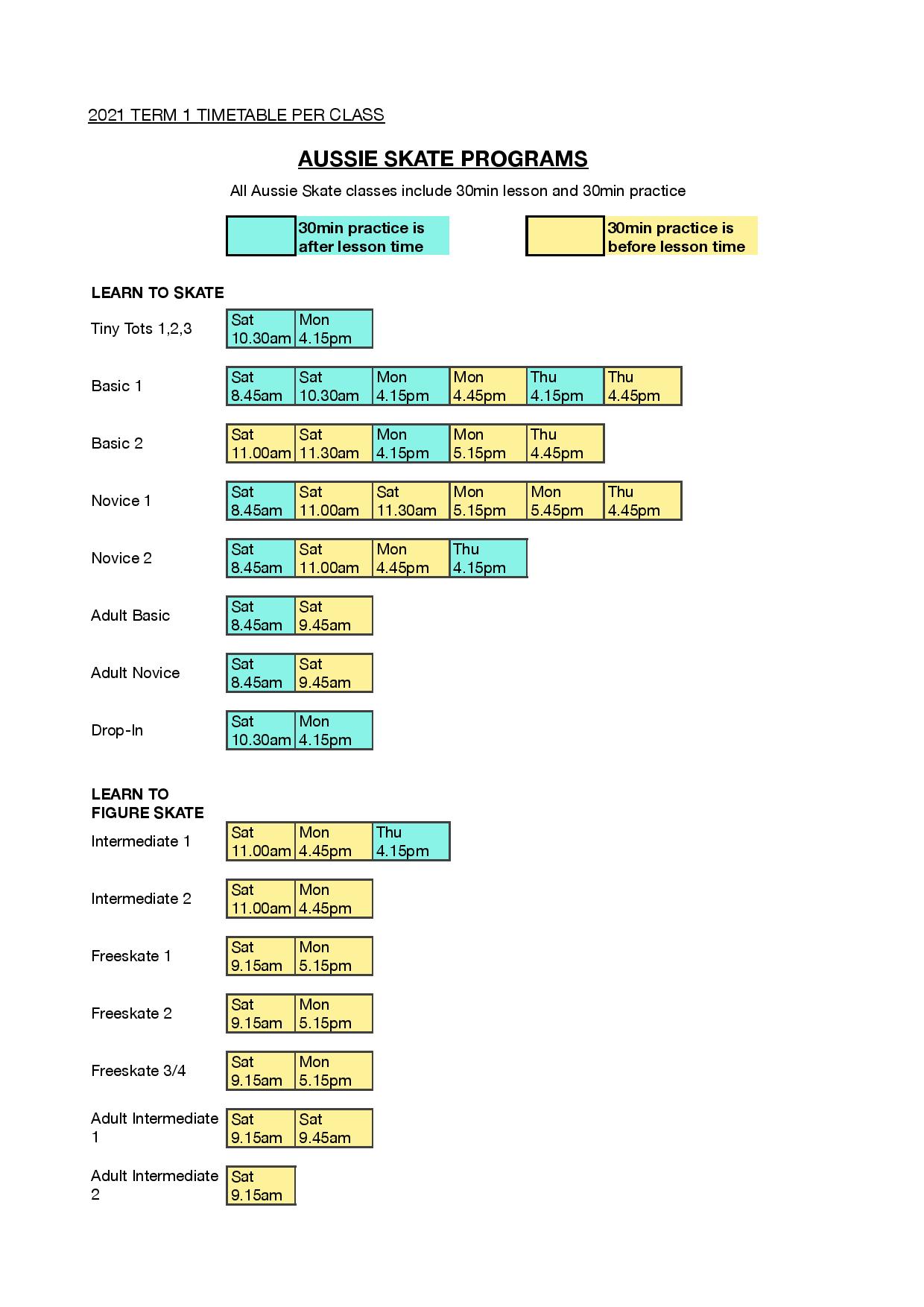 Terms and Conditions
COIR SKATE SCHOOL TERMS & CONDITIONS
We reserve the right to make class changes as deemed necessary including combining classes where there are low numbers. Class times may change Term to Term depending on demand.

All payments are non-refundable. If the service or equivalent cannot be provided by the rink as a result of a governmental order the customer would have the option to have the services supplied at a later time, or obtain a credit that could be used for other services at the rink, including public sessions, birthday parties or following skate school registrations. All issues regarding payments should be addressed to the Manager.

Registrations will be accepted up to the third week of the term, subject to availability.

Make up lessons: We allow a maximum of 2 make-up classes per term for all Learn to Skate and Learn to Figure Skate classes ($246). Missed classes are made up by attending an alternative class on another day/time and must be taken during the term in which they are missed. Any unused lessons will be forfeited). All other classes including additional classes are not eligible for make-up classes.

All patrons skate at their own risk. There is a certain amount of risk attached with the activities provided and by participating you will release the rink from any responsibility or legal liability associated with participating in the activity or actions of other patron's present.

The rink provides helmets, knee and elbow pads for use during Skate School activities please see Skate Hire staff for assistance.

Patrons must be appropriately clothed for a public place & must wear enclosed shoes into the venue & skates on the ice. Patrons with bare feet will not be permitted entry.

Outside food and drinks cannot be taken inside COIR (unless approved prior with

management).

COIR is an unlicensed premise, & as such, the consumption of alcohol is not permitted.

Patrons wishing to bring personal items into the rink do so at their own risk. Lockers are

available for hire inside the rink. COIR will not be held responsible for any damage, loss, or

theft of a patron's personal property.

Published session times and prices may be subject to change without notice.

Adults are responsible for minors under their supervision. Minors aged 12 and under must

be supervised by a responsible adult at all times whilst on COIR premises.

During this time remember that we can all contribute to creating a COVID-Safe environment by doing the following:

Maintain 1.5m distancing wherever possible.

Practice good hygiene (wash/sanitise hands thoroughly and often)

Stay home if unwell and seek medical advice
Join a club
Our in-house club is the Sydney Figure Skating Club. For information on membership, training and competitions please visit the Sydney Figure Skating Club website.